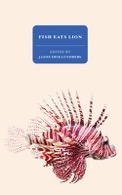 Fish Eats Lion: New Singaporean Speculative Fiction
Jason Erik Lundberg, ed.
2012
Math Paper Press
Review by Peter Young in Big Sky #1 (2013).
Of the two spec-fic anthologies released by Singapore's Math Paper Press in 2012, this is by far the larger. Twenty-two substantial stories fill these 400+ pages, some from better-known names on the Asian literary scene (such as Grace Chia Kracovic and Cyril Wong), others from authors for whom this book actually represents their first venue for written work. It's worth commenting on the high quality of stories from such newcomers, and how they sit comfortably side by side with more familiar names, as I'm sure the editor hoped they would. The theme throughout is specifically Singapore: every story is set here, and all subject Singapore and/or its residents to fantastical experiences. So, immediately to my favourites (because discovering something unexpected and great is, for me, what anthologies like this are all about): June Yang's 'Where No Cars Go' opens with a stunning visual image that I can't get out of my head. I would love to see this, done as CGI. Her story about a hidden Singapore society centred on sentient cars is one of the anthologies high points, although where the story goes ultimately felt like an introduction to this particular world. Another very visual story is Yuen Kit Mun's 'Feng Shui Train': the whole story is in fact contained in the title, and for satire and humour I'll point to Ivan Ang's 'The Digits', about a time when Singapore's national zoo unexpectedly interacts with the national lottery. Jeffrey Lim's 'Last Supper' is a poised, melancholy and elegant story about a Singaporean man's final hours, with supernatural elements. This is probably my favourite in the book, but there is also something more admirably Kafkaesque about Isa Kamari's 'Green Man Plus': what would you do – and what would the world around you do to you – if you were told you had only months to live? The penultimate tale, Tau Ming Tuan's 'Open', about an exchange of life stories between a Mexican and a Singaporean, is a similarly matured story, and I'm surprised this is his first published work.
I doubt I'll read a more engaging collection this year. With some spacious typography the pages breeze by, and there's a rich optimism to be found here that speaks of lesser-known spec-fic writers rising to a challenge, and that challenge being more than adequately met.