Recent acquisitions... ...latest at the top
Upon a Cloudy Shore, year unknown
The Shipwreck Island, 1927
Inquestor Tales: Despatches from the High Inquest #4, 2020
Einstein Ring: A Flash Fiction Story, 2017
Lavie Tidhar, ed.
The Apex Book of World SF 3, 2014
Mingwei Song, Theodore Huters, eds.
The Reincarnated Giant, 2018
The Ruined Map, 1969
The Stars, Like Dust, 1951
Charles Partington, ed.
Something Else #3, 1984
10 Minutes 38 Seconds in This Strange World, 2019
Edward Lipsett, ed.
Speculative Japan 3, 2012
Speculative Japan 4, 2018
The Redemption of Time, 2011
Lion Cross Point, 2013
The Mystery of Dr. Fu-Manchu, 1913
The Hand of Fu-Manchu, 1917
The Mask of Fu-Manchu, 1932
The Bride of Fu-Manchu, 1933
The Drums of Fu-Manchu, 1939
Emperor Fu-Manchu, 1959
Where the Bird Disappeared, 2015
Supernova Era, 2004
Legend of the Galactic Heroes: Sunset, 1987
Mecha Samurai Empire, 2018
The Bus Driver Who Would Be God and Other Stories, 2004
Before the Coffee Gets Cold, 2015
Memories of the Flying Ball Bike Shop, 1992
Tales from the Fragrant Harbour, 2010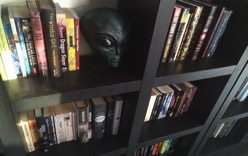 The Great and Not-So-Secret Short Fiction Project...
...to index all magazines, webzines, academic journals and fanzines that feature genre fiction (plus essays and interviews) either from Asian writers or others with interests in Asian speculative fiction.
Added 15 more issues (out of 140, to date) of Science Fiction Studies that feature relevant essays.
Recent activity...
New for April 2020
Currently based in Hua Hin, Thailand, the Big Sky Library is an online library of speculative fiction in English from and about Asia and the Asian diaspora. It is frequently updated with ongoing research as both older and newer publications are added.
It is also a real-world private library that currently holds over 1,500 titles. It is accessible for research and enquiries, and visitors are always welcome.
authors featured in the Big Sky Library