The Infinite Library and Other Stories
2017
Library edition: September 2017, 1st edition, 1st printing
Math Paper Press
ISBN 978-981-11-3851-5
Trade paperback, xv+257 pages
S$19.00
Notes:
• Foreword by Jason Erik Lundberg.
• Library copy signed and inscribed by the author in gold marker on the black front endpaper.
Fiction: Mene, Thecel, Phares // An Excerpt from the Philippine Journal of Archaeology, 4 October 1916 // A Secret
Map of Shanghai // Here Be Dragons // Synchronicity // Big Enough for the Entire Universe // Entanglement //
The Old Blue Notebook // Dyschronometria, or the Bells Are Always Screaming // I m d 1 in 10 // Exit Quiapo
Station // Panopticon // Resurrection 2.0 // Blessed Are the Hungry // How My Sister Leonora Brought Home a
Wife // Infinite Degrees of Freedom // Brother to Space, Sister to Time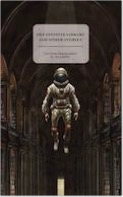 Victor Fernando R. Ocampo
Legal name: Ocampo, Victor Fernando R.
Birth place: Philippines
Birth date:
Language: English
•
•


Bibliographic comments:
Biographic comments: Resident in Singapore.