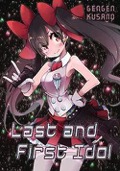 Legal name: 草野原々
Transliterated name: Kusano, Gengen
Birth place: Hiroshima, Hiroshima Prefecture, Japan
Birth date: 16 April 1990
Language: Japanese
•


Bibliographic comments: Pseudonymous author.


Last and First Idol
2018
< September 2018, 1st English language edition
J-Novel Club
No ISBN
Digital
$5.32
Notes:
• Translated by Andrew Cunningham.
• 'Last and First Idol' won the 48th Seiun Award for Best Japanese Short Story and the 4th Hayakawa SF Contest
Special Prize.
Fiction: Last and First Idol // Evolution Girls // Dark Seiyuu