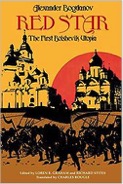 Александр Богданов | Alexander Bogdanov
Legal name: Малиновский, Александр Александрович
Transliterated name: Bogdanov, Alexander
Birth place: Sokolka, Grodno Governorate, Russian Empire
Birth date: 22 August 1873
Death date: 7 April 1928
Language: Russian



Novellas (omnibus edition)

Red Star: The First Bolshevik Utopia
1908 / 1912
< February 2007, 1st English language edition, 4th printing
Indiana University Press
ISBN 978-0-253-20317-5
Trade paperback, x+257 pages
$19.95
Notes:
• 'Red Star' series #1 & #2.
• Edited by Loren R. Graham and Richard Stites.
• Preface is uncredited; essay 'Fantasy and Revolution: Alexander Bogdanov and the Origins of Bolshevik Science
Fiction' by Richard Stites; essay 'Bogdanov's Inner Message' by Loren R. Graham.
• Translated by Charles Rougle.
Fiction: Red Star // Engineer Menni
Poetry: Martian Stranded on Earth