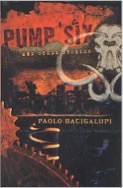 Legal name: Bacigalupi, Paolo
Birth place: Paonia, CO, USA
Birth date: 6 August 1972
Language: English
•
•




The Windup Girl
2009
Library edition: September 2009, 1st edition, 3rd printing
Night Shade Books
ISBN 978-1-59780-157-7
Hardcover, 359 pages
$24.95
Notes:
• A 'Windup Universe' story, set in Bangkok, Thailand.
• Winner of the 2010 Hugo Award for Best Novel, 2010 Nebula Award for Best Novel, 2010 John W. Campbell
Memorial Award for Best Science Fiction Novel, 2010 Compton Crook Award for Best 1st Novel, 2010 Locus Award
for Best 1st Novel, 2012 Seiun Award for Best Translated Novel, 2012 Kurd-Lasswitz Prize for Best Foreign
Work, 2012 Premio Ignotus Award for Best Foreign Novel, 2013 Imaginaire Awards for Best Foreign Novel and Best
Translation.


Pump Six and Other Stories
2008
Library edition: February 2008, 1st edition, 1st printing
Night Shade Books
ISBN 978-1-59780-133-1
Hardcover, 239 pages
$24.95
Notes:
• Contains two 'Windup Universe' stories, The Calorie Man and Yellow Card Man, the latter set in Bangkok.
• Contains both genre and non-genre fiction.
• Library copy signed by the author on the first title page.
Fiction: Pocketful of Dharma // The Fluted Girl // The People of Sand and Slag // The Pasho // The Calorie Man //
The Tamarisk Hunter // Pop Squad // Yellow Card Man // Softer // Pump Six