Ulirát: Best Contemporary Stories in Translation from the Philippines
Tilde Acuña, John Bengan, Daryll Delgado, Amado Anthony G. Mendoza III,
Kristine Ong Muslim, eds.
2021
< February 2021, 1st edition
Gaudy Boy Translates
ISBN 978-0-999-45142-7
Trade paperback, 378 pages
$22.00
Notes:
• Foreword 'The Speech of One's Own' by Gina Apostol.
• Introduction by the editors.
• Genre contents undetermined, to be highlighted in white.
• 'The Boy Who Wanted to Be a Cockroach' translated from Filipino by Soleil Davíd
• 'Santiago's Cult' translated from Filipino by Bernard Capinpin
• 'Aswang' and 'In the Softness of Your Breasts' translated from Hiligaynon by John Bengan
• 'Relapse', 'The Three Mayors of Hinablayan', 'Can't Go Out' and 'The Savant' translated from Cebuano by John
Bengan
• 'Voice Tape' translated from Ilocano by Amado Anthony G. Mendoza III and Ariel Sotelo Tabág
• 'I Am Kafka, a Cat' translated from Ilocano by Amado Anthony G. Mendoza III and Roy Vadil Aragon
• 'Mudfish Lady' translated from Hiligaynon by Eric Gerard H. Nebran
• 'Pamato' translated from Cebuano by Shane Carreon
• 'Manila-bound' translated from Waray by Daryll Delgado
• 'When He Wakes Up, Mushrooms Are Sprouting from His Nose' translated from Filipino by Erika M. Carreon
• 'Gel' translated from Filipino by Sunantha Mendoza Quibilan
• 'Relationship' translated from Akeanon by Merlie M. Alunan
• 'Some Notes and Footnotes on Loneliness' translated from Filipino by John Bengan
• 'Fungi' translated from Filipino by Kristine Ong Muslim
• 'Snake' translated from Filipino by Kristine Ong Muslim
• 'The Fishmonger's Love Story' and 'The Breakup' translated from Waray by Merlie M. Alunan
• 'Why Berting Agî Never Smiles' translated from Kinaray-a by Merlie M. Alunan
• From 'The Next Great Tagalog Novel' translated from Filipino by Tilde Acuña and Allan N. Derain
Fiction: Carlo Paulo Pacolor, The Boy Who Wanted to Be a Cockroach // Kristian Sendon Cordero, Santiago's
Cult // Isabel D. Sebullen, Aswang // Corazon Almerino, Relapse // Omar Khalid, The Three Mayors of
Hinablayan // Ariel Sotelo Tabág, Voice Tape // Roy Vadil Aragon, I Am Kafka, a Cat // Genevieve L. Asenjo,
Mudfish Lady // Merlie M. Alunan, Pamato // Doms Pagliawan, Manila-bound // Carlo Paulo Pacolor, When He
Wakes Up, Mushrooms Are Sprouting from His Nose // Zosimo Quibilan, Jr., Gel // Early Sol A. Gadong, In the
Softness of Your Breasts // Elizabeth Joy Serrano-Quijano, Can't Go Out // John E. Barrios, Relationship // Jay
Jomar F. Quintos, Some Notes and Footnotes on Loneliness // Rogelio Braga, Fungi // Perry C. Mangilaya,
Snake // Timothy Montes, The Fishmonger's Love Story // Januar E. Yap, The Savant // Firie Jill T. Ramos, The
Breakup // John Iremil Teodoro, Why Berting Agî Never Smiles // Allan N. Derain, From The Next Great Tagalog
Novel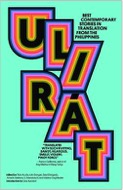 Anthology: Ulirát: Best Contemporary Stories in Translation from the Philippines
Editors (alphabetically listed): Tilde Acuña | John Bengan | Daryll Delgado | Amado Anthony G. Mendoza III |
Language: English