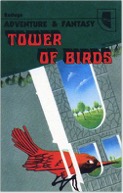 Anthology: Tower of Birds
Editor: uncredited
Language: English


Bibliographic comments: Published in English in Russia.

Tower of Birds
uncredited, ed.
1989
< 1989, 1st edition
Raduga
ISBN 5-05-002478-1
Paperback, 398 pages
$5.95
Notes:
• Translated by Holly Smith.
Fiction: Viktor Kolupayev, The Piano-Tuner // Viktor Kolupayev, Inspiration // Olga Larionova, The Planet with
Nothing to Offer // Alexander Abramov, Sergei Abramov, The Tale of the Abominable Snowman // Boris Stern, A
Person Is... (An Essential Addition to Asimov's Three Laws) // Kir Bulychev, It Never Pays to Make a Sorcerer Mad!
// Vladislav Ksionzhek, The Boy, the Old Man, and the Dog // Askold Yakubovsky, Mephisto // Vladimir Kantor,
The Toy Pistol // Mikhail Pukhov, Counter-Attack // Vyacheslav Rybakov, The Artist // Sergei Drugal, Every Tree
Has Its Bird // Oleg Korabelnikov, Tower of Birds