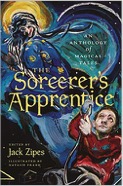 Anthology: The Sorcerer's Apprentice: An Anthology of Magical Tales
Editor: Jack Zipes
Language: English



The Sorcerer's Apprentice: An Anthology of Magical Tales
Jack Zipes, ed.
2017
< 2017, 1st edition
Princeton University Press
ISBN 978-0-691-17265-1
Hardcover, xxvi+404 pages
$35.00
Notes:
• Preface and Introduction 'The Sorcerer's Apprentice, Harry Potter, and Why Magic Matters' by Jack Zipes. The
Preface also contains the story 'The Youth Who Went through the Proper Ceremonies: Why Did He Fail to Win the
Magic Spell?' by Somadeva, translated by Arthur W. Ryder.
• 'The Tale of the Sorcerer' translated from the Yiddish by Adelia Solemsli-Chrysler.
Fiction: Lucian of Samosata, Eucrates and Pancrates // François Pétis de la Croix, The Story of the Brahmin
Padmanaba and the Young Hassan // Sir Walter Scott, The Last Exorciser // John T. Naaké, The Book of Magic //
Alfred Cooper Fryer, The Master and His Pupil; or, The Magic Book // Sheykh-Zada, The Lady's Fifth Story // Edith
Hodgetts, The Blacksmith and the Devil // Henry Thomas Francis, The Rash Magician // Richard Rostron, The
Sorcerer's Apprentice // Richard M. Dorson, The Mojo // Harold Courlander, The Do-All Ax // Rachel Harriette
Busk, The Saga of the Well-and-Wise-Walking Khan // Somadeva, Bhavašarman and the Two Witches // Farid
al-Din 'Attar, The Magician's Apprentice // Giovan Francesco Straparola, Maestro Lattantio and His Apprentice
Dionigi // Sanghendi Mahalingam Natesa Sastri, The Deceiver Shall Be Deceived // Jacob Grimm, Wilhelm
Grimm, The Nimble Thief and His Master // Kazimierz Wladyslaw Woycicki, The Sorcerer and His Apprentice //
Albert Schott, Arthur Schott, The Devil and His Pupil // Ludwig Bechstein, The Magic Combat // Johann Georg
von Hahn, The Teacher and His Pupil // Giuseppe Pitrè, The Tuft of Wild Beet // Domenico Comparetti, Oh,
Relief! // François-Marie Luzel, The Magician and His Servant // George Webbe Dasent, Farmer Weathersky //
Jerome Curtin, The Fisherman's Son and the Gruagach of Tricks // Edith Hodgetts, The Wonderful Trade //
Charles Swynnerton, The Story of Ali the Merchant and the Brahmin // Leo Wiener, The Tale of the Sorcerer //
Joseph Charles Mardrus, The Twelfth Captain's Tale // Fletcher Gardner, The Battle of the Enchanters // Peter
Buchan, The Black King of Morocco // Cecil Henry Bompas, The Boy Who Learnt Magic // Edith Nesbit, The
Magician's Heart // Claude-Marius Barbeau, The Two Magicians // Hermann Hesse, The Forest Dweller //
Heywood Broun, Red Magic // Dean Fansler, The Mysterious Book // Elsie Clews Parsons, The Battle of the
Enchanters // Romuald Pramberger, The Sorcerer's Apprentice // Seumas MacManus, The Mistress of Magic //
Joseph Médard Carrière, The Two Magicians // John Mason Brewer, The High Sheriff and His Servant // Corinne
Saucier, The Man and His Son // A. K. Ramanujan, The Magician and His Disciple // Joachim Leopold Haupt,
About an Evil Man in Groß-Särchen // Michael Hornig, Krabat: A Legend from Folklore // Georg Gustav Kubasch,
Krabat // Edmund Veckenstedt, The Sorcerer's Apprentice, I // Edmund Veckenstedt, The Sorcerer's Apprentice, II
// Johann Goltsch, The Story About Krabat // Georg Pilk, The Wendish Faust Legend // Jerzy Slizinski, Krabat
Poetry: Johann Wolfgang von Goethe, The Pupil in Magic // Robert Southey, Cornelius Agrippa's Bloody Book //
Ovid, Erysichthon and Mestra