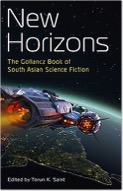 Anthology: New Horizons: The Gollancz Book of South Asian Science
Fiction
Editor: Tarun K. Saint
Language: English



New Horizons: The Gollancz Book of South Asian Science Fiction
Tarun K. Saint, ed.
2021
Library edition: June 2021, 1st edition, 1st printing
Gollancz
ISBN 978-1-4732-2868-9
B-format paperback, xli+375 pages
£9.99
Notes:
• 'Foreword: Spice-ship to Infinity' by Manjula Padmanabhan; 'Introduction: SF Matters: South Asian Futures to Come'
by Tarun K. Saint.
• 'Planet of Terror', 'The Dream' and 'Why the War Ended' translated from the Bengali by Arunava Sinha.
• 'Inspector Matadeen on the Moon' translated from the Hindi by C. M. Naim.
• 'Stealing the Sea' translated from the Urdu by Syed Saeed Naqvi.
• 'The Twenty-Second Century' translated from the Hindi by Maya Joshi (excerpts from Baisvin Sadi).
• UK re-issue of The Gollancz Book of South Asian Science Fiction.
Fiction: Adrish Bardhan, Planet of Terror // Harishankar Parsai, Inspector Matadeen on the Moon // Asif Aslam
Farrukhi, Stealing the Sea // Mimi Mondal, The Sea Sings at Night // Rahul Sankrityayan, The Twenty-Second
Century // Anil Menon, Shit Flower // Shovon Chakraborty, The Man Who Turned Into Ghandi // Tarun K. Saint,
A Visit to Partition World // Priya Sarukkai Chabria, Dreaming of the Cool Green River // Clark Prasad,
Mirror-Rorrim // Manjula Padmanabhan, Flexi-Time // Payal Dhar, The Other Side // Sami Ahmad Khan, 15004
// Premendra Mitra, Why the War Ended // Chandrashekhar Sastry, The Beneficient Brahma // Giti Chandra, The
Goddess Project // Mohammad Salman, The Last Tiger // Rimi B. Chatterjee, A Night with the Joking Clown //
Muhammed Zafar Iqbal, The Dream // Rukmini Bhaya Nair, Anandna // Nur Nasreen Ibrahim, We Were Never
Here // Keki N. Daruwalla, The Narrative of Naushirwan Shavaksha Sheikh Chilli // S. B. Divya, Looking Up //
Vandana Singh, Reunion
Poetry: Somendra Singh Kharola, Chernobyl // Kaiser Haq, Seventy Years After Seventy Years After Partition //
Sumita Sharma, Moksha // Arjun Rajendran, Were It Not For