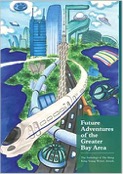 Anthology: Future Adventures of the Greater Bay Area
Editor: uncredited
Language: English


Bibliographic comments: 2020 anthology of the Hong Kong Young Writers Award, with the theme of 'The Future'.

Future Adventures of the Greater Bay Area
uncredited, ed.
2020
< March 2020, 1st edition
Youth Literature Foundation
ISBN 978-988-8658-24-4
Trade paperback, 240 pages
£5.00
Notes:
• Foreword by Nury Vittachi.
• Incomplete contents.
Fiction: Hanyi Zhou, The Journal of a Banyan Tree // Derek Fung, Future Adventures of the Greater Bay Area //
Milly Golovsky, Teach a Boy to Fish // Vania Chow, Building of a Home // Renee Chou, Marketplace