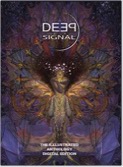 Editors (alphabetically listed): Monica Barraclough | Eric Olive | Pat Redding Scanlon
Language: English



Deep Signal
Eric Olive, Monica Barraclough, Pat Redding Scanlon, eds.
2019
Library edition: June 2019, 1st edition
Eric Olive
ISBN 978-0-578-50608-1
Hardcover, 160 pages
$23.95 / €22.00 / £19.00
Notes:
• Foreword by Eric Olive.
• Interior art by Mark J. Brady, Mikus Duncis, Donato Giancola, John C. Harman, John Haverkamp, Éric Hérenguel,
Stephen Hickman, Sam Inabinet, Michael Kaluta, Ronald Kleijer, Christopher Moeller, Lee Moyer, Eric Olive, Pat
Redding Scanlon, Michael J. Smith, Bryan Talbot, Phil Trumbo and Kelly Zimmerman.
• 'A Corpse' translated by Dani Ismailov.
• Only fiction, poetry and graphic format stories are listed, relevant contents are highlighted in white.
Fiction: Aliette de Bodard, What It Means to Burn // Ken Liu, Shanghai in 48 Hours // Mercurio D. Rivera, The Sun,
the Sea, the Heart // Jamie S. Martindale, Earth Park // Gabriela Lee, The Dreamer in the Deep // Tom Crosshill,
The Dark City Luminous // Dr. Matthew Griggs, The Valley of Thorong-La // Joel Mowdy, Shocking ... // D. A.
Xiaolin Spires, Migration // Michael G. Ryan, Spare Parts // Hamid Ismailov, A Corpse // Monica Barraclough,
No Titans But Our Own // Ken Liu, Love's Mirror // Monica Barraclough, Gluttony // Toby Wyant, Holding Pattern
// John Haverkamp, The Field of Moths // R. Lewis Wright, Reality Betrayed
Poetry: Andrea Jurjević, The Book of Dreams
Graphic format: Elaine Lee, Juice // Eric Olive, Noise // Jason Murphy, Blossom