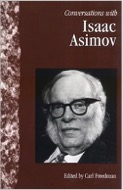 Non-fiction anthology: Conversations with Isaac Asimov
Editor: Carl Freedman
Language: English



Conversations with Isaac Asimov
Carl Freedman, ed.
2005
< July 2005, 1st edition
University Press of Mississippi
ISBN 1-57806-737-5
Hardcover, xxvi+170 pages
$50.00
Notes:
• Introduction by Carl Freedman.
Interviews: Thomas D. Clareson, Science Fiction: The New Mythology: Interview of Isaac Asimov, H. Bruce Franklin,
Frederik Pohl and Darko Suvin // Lewis Nichols, Isaac Asimov: Man of 7,560,000 Words // Israel Shenker, Untitled
Interview from Words and Their Masters // Earl G. Ingersoll, A Conversation with Isaac Asimov // James Gunn, An
Interview with Isaac Asimov // Pat Stone, The Plowboy Interview: Isaac Asimov - Science, Technology... and Space!
// Andrew Porter, Darrell Schweitzer, Isaac Asimov // Fred Jerome, Science and American Society // Frank
Kendig, A Conversation with Isaac Asimov // Joy Walsh, Isaac Asimov: Modern-Day Renaissance Man // Victor
Serebriakoff, The Leading Edge // Alan C. Elms, From "Nightfall" to Dawn: Asimov as Acrophobe // Bill Moyers,
Isaac Asimov Speaks // Irv Broughton, Isaac Asimov Interview
Essay: Myrna Oliver, Isaac Asimov, Science Fiction Virtuoso, Dies