Anthology: 3 Rays: Stories from Satyajit Ray
Editor: Sandip Ray
Language: English


Bibliographic comments: Stories from Upendrakishore Roy Chowdhury (Ray's grandfather), S. Sukumaran Potti and
Satyajit Ray, all translated from the Bengali by Ray plus two stories by Ray originally in English ('Abstraction', 'Shades of
Grey'). Also listed on Satyajit Ray's page.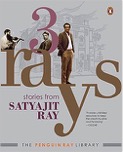 3 Rays: Stories from Satyajit Ray
2021
< August 2021, 1st edition
Penguin Books India
ISBN 978-01-4344-898-3
Trade paperback, 478 pages
Unknown cover price
Notes:
• Edited and with a Foreword by Sandip Ray, co-edited with Riddhi Goswami.
• Illustrated by Satyajit Ray and Upendrakishore.
Fiction: Upendrakishore Roy Chowdhury: Majantali Sarkar // The Toony Bird // Narahari Dass // The Bent Old
Woman // The Ant, the Elephant and the Brahmin's Servant // Tiger in the Cage
S. Sukumaran Potti: Stew Much! // The Old Woodman // The Missing Whiskers // Old Tickler // Uncle's Invention
// The Sons of Rangaroo // Prey for Me // The Pundit's Wrath // Baburam the Snake Charmer // The King's Illness
// The King of Bombardia // Groomy Tidings // Odour in the Court // The Diary of Prof Heshoram Hoshiar
Satyajit Ray: Film Treatment of Upendrakishore's 'Goopy Gyne Bagha Byne' // Bonkubabu's Friend // The Small
World of Sadananda // Patolbabu, Film Star // Bipin Choudhury's Lapse of Memory // Professor Shonku and Khoka
– Draft Script // Night of the Indigo // The Life and Death of Aryashekhar // Magic Box of Baghdad // ratanbabu and
That Man // Fritz // The Sahara Mystery // Corvus // Khagam // The Unicorn Expedition // Tellus //
Ashamanjababu's Dog // Big Bill // Tipu, the Maths Teacher and the Pink Man // The Duel // Abstraction // Shades
of Grey
Essays: Satyajit Ray, Upendrakishore // Sukumar // Satyajit on His Literary Works