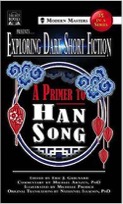 Legal name: 韩松
Transliterated name: Han, Song
Birth place: Chongqing, China
Birth date: 28 August 1965
Language: Chinese
•




A Primer to Han Song
2020
Library edition: September 2020, 1st edition
Dark Moon Books
ISBN 978-1-949491-37-1
Hardcover, 222 pages
$24.95
Notes:
• Introduction by Eric J. Guignard.
• Translated by Nathaniel Isaacson.
• Interior art by Michelle Prebich.
• 'Exploring Dark Short Fiction' series #5.
Fiction: Earth Is Flat // Transformation Subway // The Wheel of Samsara // Two Small Birds // Fear of Seeing //
My Country Does Not Dream
Essays: Eric J. Guignard, About Han Song // Michael Arnzen, Why Han Song Matters // Han Song, Sending
Chinese Science Fiction Overseas: A New Dialogue
Interview: In Conversation with Han Song: interview by Eric J. Guignard.