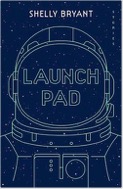 Legal name: Bryant, Shelly
Birth place: USA
Birth date: 26 February 1971
Language: English
•
•


Bibliographic comments: Only Shelly Bryant's titles related to Asia are listed here.
Biographic comments:


Launch Pad
2017
Library edition: September 2017, 1st edition, 1st printing
Epigram Books
ISBN 978-981-4785-20-4
Trade paperback, 160 pages
S$18.90
Notes:
• Introduction by Tima Kanagaratnam.
• The title of 'Or Three Travellers' is prefixed by three Chinese characters followed by a comma.
Fiction: Launch Pad // The Handling // Tan Swee Nee, Barber // Peregrine // Or Three Travellers // The World, a
Stage // Case Study: Training Programme // Rewrites // Scylla and Charybdis // SETI-SGHQ // In Situ // Sila //
Terminus