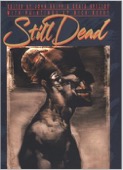 Editors (alphabetically listed): John Skipp | Craig Spector
Language: English



Still Dead
John Skipp, Craig Spector, eds.
1992
< August 1992, 1st edition
Mark V. Zeising
ISBN 0-929480-67-8
Hardcover, 276 pages
$29.95
Notes:
• Essays 'Fast Foreword' by Tom Savini, 'Introduction: Nineteen New Ways to Kick Dead Ass or Resisting the Urge to
Decay' by John Skipp and Craig Spector.
• Relevant contents are highlighted in white. 'Calcutta, Lord of Nerves' is set in Calcutta, India.
Fiction: Mort Castle, The Old Man and the Dead // Chan McConnell, Don't/Walk // Nancy A. Collins, Necrophile //
K. W. Jeter, Rise Up and Walk // Glen Vasey, One Step at a Time // Dan Simmons, This Year's Class Picture //
Simon McCaffery, Night of the Living Dead Bingo Women // Elizabeth Massie, Abed // Gahan Wilson, Come One,
Come All // Kathe Koja, The Prince of Nox // Gregory Nicoll, Beer Run // Maxwell Hart, Douglas Morningstar,
Prayer // Poppy Z. Brite, Calcutta, Lord of Nerves // Roberta Lannes, I Walk Alone // J. S. Russell, Undiscovered
Countries // Brooks Caruthers, Moon Towers // Nancy Holder, Passion Play // Douglas E. Winter, Bright Lights,
Big Zombie
Poetry: John Skipp, Craig Spector, The Ones You Love