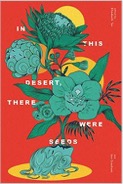 Anthology: In This Desert, There Were Seeds
Editors (alphabetically listed): Jon Gresham | Elizabeth Tan
Language: English


Bibliographic comments: Co-published by Ethos Books in Singapore and Margaret River Press in Western Australia.

In This Desert, There Were Seeds
Elizabeth Tan, Jon Gresham, eds.
2019
Library edition: December 2019, 1st edition
Ethos Books / Margaret River Press
ISBN 978-0-6484850-9-4
Digital
$4.99
Notes:
• Foreword by Sharon Flindell, Introduction by Elizabeth Tan and Jon Gresham.
• Contains both genre and non-genre fiction, Asian spec-fic contents are highlighted in white.
Fiction: Cyril Wong, Harihara // David Whish-Wilson, Vigilance Security // Choo Ruizhi, Aviatrix // Sabrina
Dudgeon-Swift, The Wave // Chen Cuifen, Reunion Dinner // Rashida Murphy, Death Lilies // Rajkumar
Thiagaras, The White Lotus: Sinking to the Bottom // Jay Anderson, Flies // Jinny Koh, Contentment // Alicia
Tuckerman, Glass // Laurie Steed, Sometimes Close, Sometimes Distant // Marylyn Tan, The Blue Leopard //
Tinashe Jakwa, Purple Flowers // Rachelle Rechichi, Dark Mulberry // Aishah Alhadad, Datuk's Home // Heather
Teo, Gently Burns the Crescent Moon // Yirga Gelaw Woldeyes, Maqdala1868/London 2018 // Arin Alycia Fong,
Walking on Water // Leslie Thiele, The Slaughterman // Diana Rahim, A Minor Kalahari