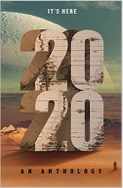 Anthology: 2020: An Anthology
Editors (alphabetically listed): Foo Sek Han | Leon Wing
Language: English



2020: An Anthology
Foo Sek Han, Leon Wing, eds.
2021
< January 2021, 1st edition
Fixi Novo / Buku Fixi
ISBN 978-967-23-2818-6
Trade paperback, 240 pages
Unknown cover price
Notes:
• Introduction by Foo Sek Han and Leon Wing.
Fiction: M. Kumar, Hang Terbang // Ivy Ngeow, The Accidental // Natasha Gideon, Hukum // Anuar Shah,
Program #AngkasaRaya2030 // Raja Ummi Nadrah, The White-Clothed Society // Catalina Rembuyan, 0202 //
William Tham Wai Liang, Geographical Constant // Linges, The Alley // Paul Gnanaselvam, Masalodeh //
Angeline Woon, Hindsight // Edwin Kho, Ol' Man Garr // Zed Adam Idris, The Last Malayan // Terence Toh,
Awakening // Chris Quah, Skin Dyes // Chris Quah, Standing in the Eyes of the World // Anna Tan, Batteries //
Tina Isaacs, Last Farewell // May Chong, 2020 Calling // Lee Ee Leen, For the Purists, Not the Tourists //
Nathaniel Sario, Is It Safe to Come Out Now?