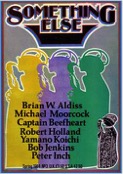 Editor: Charles Partington
Language: English
ISSN:
Issues: 3, 1980 – 1984
Websites: Galactic Central | ISFDB


Bibliographic comments: UK semi-pro science fiction magazine.
• Only issues with contents of interest to this library are listed here, highlighted in white.

Something Else, #3
Charles Partington, ed.
Library edition: Spring 1984
Pan Visuals
A4, 56 pages
£1.50 / $2.50
Notes:
• Editorial by Charles Partington.
• No translator is identified for 'Where Do the Birds Fly Now?'.
• Only fiction and essays are listed.
Fiction: Brian W. Aldiss, Journey to the Goat Star // Peter Inch, Fragments of the Fantastic City // Yamano Kōichi,
Where Do the Birds Fly Now? // Michael Moorcock, Discourse with a Beast Who Mourns the Golden Age // Robert
Holland, To Adam - From Oscar - Up Edgar
Essays: Charles Platt, Captain Courageous vs. the Disco-Future // Charles Partington, The Who's Who Fragment