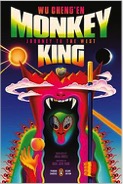 Legal name: 吳承恩
Transliterated name: Wu, Cheng'en
Birth place: Lianshui, Jiangsu Province, China
Birth date: 1500 or 1505
Death date: 1580 or 1582
Language: Chinese


Bibliographic comments: While authorship is uncertain, Wu remains the most likely author for Monkey King.
Biographic comments:


Monkey King: Journey to the West
1592
< May 2022 edition, 1st printing
Penguin
ISBN 978-0-14-313630-9
Trade paperback, xliv+339 pages
$18.00 / C$24.00
Notes:
• Foreword and interior art by Gene Luen Yang.
• Translated and with 'A Note on the Translation' by Julia Lovell.