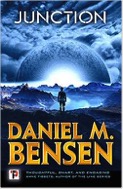 Legal name: Bensen, Daniel M.
Birth place: Chicago, IL, USA
Birth date:
Language: English
•
•


Bibliographic comments: Only Daniel M. Bensen's titles related to Asia are listed here.
Biographic comments:


Junction
2019
< January 2019, 1st edition
Flame Tree Press
ISBN 978-1-78758-095-4
Trade paperback, 231 pages
£9.95
Notes:
• Partially set in Papua New Guinea.
• Features the Japanese protagonist Daisuke Matsumori.
• 'Junction' series #1.