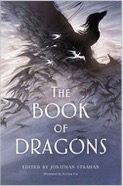 Anthology: The Book of Dragons
Editor: Jonathan Strahan
Language: English



The Book of Dragons
Jonathan Strahan, ed.
2020
< June 2020, 1st edition
HarperVoyager
ISBN 978-0-00-833147-4
Hardcover, 576 pages
£25.00
Notes:
• Introduction by Jonathan Strahan.
• Winner of the 2021 Locus Award for Best Anthology.
Fiction: Elle Katharine White, Matriculation // Zen Cho, Hikaya Sri Bujang, or The Tale of the Naga Sage // Daniel
Abraham, Yuli // Ken Liu, A Whisper of Blue // Brooke Bolander, Where the River Turns to Concrete // K. J.
Parker, Habitat // Ellen Klages, Pox // R. F. Kuang, The Nine Curves River // Kelly Barnhill, Lucky's Dragon // JY
Yang, The Exile // Peter S. Beagle, Except on Saturdays // Kelly Robson, La Vitesse // Kate Elliott, The Long
Walk // Garth Nix, Cut Me Another Quill, Mister Fitz // Seanan McGuire, Hoard // Aliette de Bodard, The Last
Hunt // Ann Leckie, Rachel Swirsky, We Continue // Todd McCaffrey, Small Bird's Plea // Michael Swanwick,
Dragon Slayer // Patricia A. McKillip, Camouflage // Sarah Gailey, We Don't Talk About the Dragon // Scott Lynch,
Maybe Just Go Up There and Talk to It
Poetry: Jane Yolen, What Heroism Tells Us // Jo Walton, Nidhog // Beth Cato, I Make Myself a Dragon // Amal
El-Mohtar, A Final Knight to Her Love and Foe // C. S. E. Cooney, The Worm of Lirr // Theodora Goss, The
Dragons // Jane Yolen, A Nice Cuppa