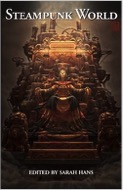 Anthology: Steampunk World
Editor: Sarah Hans
Language: English



Steampunk World
Sarah Hans, ed.
2014
< August 2014, 1st edition
Alliteration Ink
ISBN 978-1-939840-19-6
Trade paperback, 374 pages
£8.95
Notes:
• Introduction 'Going Global, or Re-Engineering Steampunk Fiction' by Diana M. Pho.
• Relevant contents are highlighted in white.
Fiction: Jay Lake, Shedding Skin; or How the World Came to Be // Jaymee Goh, Hidden Strength // Nisi Shawl,
Promised // Emily B. Cataneo, The Firebird // Indrapramit Das, The Little Begum // Lucien Soulban, Forty Pieces
// Lillian Cohen-Moore, Hatavat Chalom // Lucy A. Snyder, The Leviathan of Trincomalee // Balogun Ojetade,
The Hand of Sa-Seti // Alex Bledsoe, The Omai Gods // Benjanun Sriduangkaew, The Governess and We // Pip
Ballantine, Tangi A Te Ruru/The Cry of the Morepork // Rochita Loenen-Ruiz, The Construct Also Dreams of Flight
// Tade Thompson, Budo or, The Flying Orchid // S. J. Chambers, The Şehrazatın Diyoraması Tour // Nayad A.
Monroe, The Emperor Everlasting // Malon Edwards, Mary Sundown and the Clockmaker's Children // Ken Liu,
Good Hunting