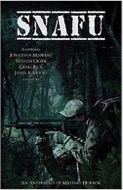 Editors (alphabetically listed): Geoff Brown | Amanda J. Spedding
Language: English


Bibliographic comments: Only series anthologies with contents of interest to this library are listed here, highlighted in white.

SNAFU: An Anthology of Military Horror
Geoff Brown, Amanda J. Spedding, eds.
2014
< July 2014, 1st edition
Cohesion Press
No ISBN
Digital
$5.99
Notes:
• Foreword by Alan Baxter.
Fiction: Neal F. Litherland, Blackwater // Christine Morgan, Little Johnny Jump-Up // Brian W. Taylor, Covert
Genesis // Jonathan Maberry, Bug Hunt // Wayland Smith, Special Operations Interview PTO-14 // Curtis C.
Chen, Making Waves // Jeff Hewitt, A Tide of Flesh // Weston Ochse, Cold War Gothic // James A. Moore, Blank
White Page // David Benton, W. D. Gagliani, Thela Hun Gingeet // Greig Beck, The Fossil // Tyson Mauermann,
Death at 900 Meters // Eric S. Brown, Holding the Line // David Amendola, The Shrine // Steve Ruthenbeck,
Ptearing All Before Us // Kirsten Cross, A Time of Blood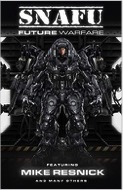 SNAFU: Future Warfare
Geoff Brown, Amanda J. Spedding, eds.
2016
< 2016, 1st edition
Cohesion Press
No ISBN
Digital
$3.99
Notes:
Fiction: Steve Lewis, Suits // Alan Baxter, Under Calliope's Skin // Case C. Capehart, The ASH at Ft. Preston //
Benjamin Cheah, Human Strain // Samson Stormcrow Hayes, Kill Streak // Jack Hillman, Scout Mission //
Anthony Izzo, Outpost // Tim Marquitz, J. M. Martin, Invasive Maneuvers // Mike Resnick, Romeo and Julie //
Deborah Walker, Acting Private Tantas Jackson // Jay Werkheiser, Perfect War // Asher Wismer, Emeralds