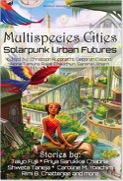 Editors (alphabetically listed): Rajat Chaudhuri | Deborah Cleland | Christoph Rupprecht | Norie Tamura |
Sarena Ulibarri
Language: English
Anthology: Multispecies Cities: Solarpunk Urban Futures



Multispecies Cities: Solarpunk Urban Futures
Christoph Rupprecht, Deborah Cleland, Norie Tamura, Rajat Chaudhuri,
Sarena Ulibarri, eds.
2021
Library edition: April 2021, 1st edition
World Weaver Press
No ISBN
Digital
£2.99
Notes:
• 'A Life with Cibi' and 'Becoming Martians' translated by Toshiya Kamei.
• Relevant contents are highlighted in white. 'Vladivostok' is set in Vladivostok, Russia; 'Iron Fox in the Marble City' is
set in Tokyo, Japan; 'The Mammoth Steps' is set in Thailand.
Fiction: Priya Sarukkai Chabria, Listen: A Memoir // N. R. M. Roshak, By the Light of the Stars // Meyari
McFarland, Old Man's Sea // Kate V. Bui, Deer, Tiger, and Witch // Avital Balwit, Vladivostok // D. A. Xiaolin
Spires, The Exuberant Vitality of Hatchling Habitats // Timothy Yam, Untamed // Joyce Chng, It Is the Year 2115 //
Caroline M. Yoachim, A Rabbit Egg for Flora // Vlad-Andrei Cucu, Iron Fox in the Marble City // Joseph F. Nacino,
Mariposa Awakening // Natsumi Tanaka, A Life with Cibi // Phoebe Wagner, Children of Asphalt // Eliza Victoria,
Down the River // Taiyo Fujii, Becoming Martians // Sarah E. Stevens, Abso // Joel R. Hunt, In Two Minds //
Rimi B. Chatterjee, Arfabad // Andrew Dana Hudson, The Mammoth Steps // Amin Chehelnabi, Wandjina //
Octavia Cade, The Streams Are Paved with Fish Traps // E.-H. Nießler, Crew // Shweta Taneja, The Songs That
Humanity Lost Reluctantly to Dolphins // D. K. Mok, The Birdsong Fossil