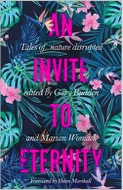 An Invite to Eternity: Tales of Nature Disrupted
Gary Budden, Marian Womack, eds.
2019
< October 2019, first edition
Calque Press
ISBN 978-1-916232-10-5
Trade paperback, 392 pages
£14.99
Notes:
• Foreword by Helen Marshall, Introduction by Gary Budden and Marian Womack.
• 'The Apprentice' translated by Marian Womack.
• 'Body' translated by James Womack.
• 'The Parasite' translated by James Rann.
• Relevant contents are highlighted in white.
Fiction: Naomi Booth, Warning: Localised Quicksand // Claire Dean, Lichen Storey // Tiina Raevaara, The Birds
Always Return // Malcolm Devlin, My Uncle Eff // D. P. Watt, We Are the Clay // Usman T. Malik, Laal Andhi //
Aliya Whiteley, Star in the Spire // Sofía Rhei, The Apprentice // Kathleen Rani Hagen, Snow, Wind and Diesel //
Gareth E. Rees, Tyrannosaurs Bask in the Warmth of the Asteroid // Vida Cruz, In the Shadow of the Typhoon,
Humans and Mahiwaga Cooperate for Survival // Kristen Roupenian, The Rainbow // Camilla Grudova, Jackfruit
// Timothy J. Jarvis, Brother Burgholt's Charm // Alberto Chimal, Body // Anna Starobinets, The Parasite //
Regina Kanyu Wang, The Story of Dăo // Alexandra Manglis, What Planets Are These, Conjured from the Depths
of Our Imagination?
Anthology: An Invite to Eternity: Tales of Nature Disrupted
Editors (alphabetically listed): Gary Budden | Marian Womack
Language: English