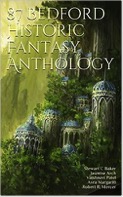 Anthology: 87 Bedford Historic Fantasy Anthology
Editor: Lichen Han
Language: English



87 Bedford Historic Fantasy Anthology
Lichen Han, ed.
2020
< May 2020, 1st edition
87 Bedford
No ISBN
Digital
$4.99
Notes:
• Editor's Note by Lichen Han.
Fiction: Stewart C. Baker, At the Edge of a Human Path // Jasmine Arch, On the Nature and Origin of Dragons //
Vaishnavi Patel, The Sister Line // Avra Margariti, The Tiger's Amber Eye // Stephen R. Loftus-Mercer, Robert R.
Mercer, Autumn's Canoe