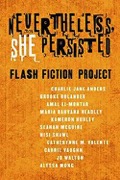 Nevertheless, She Persisted: Flash Fiction Project
uncredited, ed.
2020
Tor
Review by Peter Young in The White Notebooks #17 (April 2020).
An anthology whose title is taken from the words of the reprehensible Mitch McConnell, yet these words have since been effectively turned against him all over the place. Here, eleven women writers provide short but highly imaginative stories in which female protagonists overcome adversity through their persistence. Some are a little too abstract and don't provide easy access; others, such as the excellent and final story by Catherynne M. Valente 'The Ordinary Woman and the Unquiet Emperor', have their allegorical nature far more clearly on display.