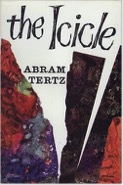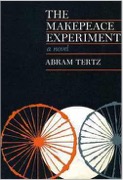 Legal name: Синя́вский, Андре́й Дона́тович
Transliterated name: Sinyavsky, Andrei Donatovich
Birth place: Moscow, Russia, USSR
Birth date: 8 October 1925
Death date: 25 February 1997
Language: Russian





The Icicle
1961
< 1963, 1st English edition
Collins & The Harvill Press
No ISBN
Hardcover, 191 pages
16/-
Notes:
• This collection also published as Fantastic Stories by Pantheon Books (US) in the same year.
• Translated by Max Hayward and Ronal Hingley.
Fiction: You and I // The Icicle // Tenants // At the Circus // Graphomaniacs
The Makepeace Experiment
1963
< 1965, 1st English language edition, 1st printing
Collins & The Harvill Press
No ISBN
Hardcover, 191 pages
18/-
Notes:
• Translated by Manya Harari.