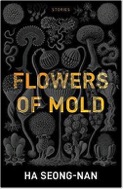 Legal name: 하성란
Transliterated name: Ha Seong-nan
Birth place: Seoul, South Korea
Birth date: 28 June 1967
Language: Korean
•


Bibliographic comments:
Biographic comments:


Flowers of Mold
1999
Library edition: April 2019, 1st English Language edition, 1st printing
Open Letter Books
ISBN 978-1-940953-96-0
Trade paperback, 212 pages
$15.95
Notes:
• Translated from the Korean by Janet Hong.
• All contents are borderline genre.
• Under the title The Woman Next Door, this collection won the 1999 South Korean Dong-in Literary Award.
Fiction: Waxen Wings // Nightmare // The Retreat // The Woman Next Door // Flag // Your Rearview Mirror //
Flowers of Mold // Toothpaste // Early Beans // Onion