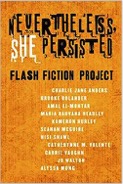 Anthology: Nevertheless, She Persisted: Flash Fiction Project
Editor: uncredited
Language: English


Bibliographic comments: Editor is uncredited. A Tor blog post on 4 March 2020 says this anthology was "organized by science
fiction and fantasy editor Diana M. Pho and in collaboration with editors Patrick Nielsen Hayden, Lee Harris, Liz Gorinsky,
Marco Palmieri, and Miriam Weinberg."

Nevertheless, She Persisted: Flash Fiction Project
uncredited, ed.
2020
Library edition: February 2020, 1st edition
Tor
ISBN 978-1-250-78168-0
Digital
$0.00
Notes:
• Relevant contents are linked in blue.
Fiction: Kameron Hurley, Our Faces, Radiant Sisters, Our Faces Are Full of Light! // Alyssa Wong, God Product //
Carrie Vaughn, Alchemy // Seanan McGuire, Persephone // Charlie Jane Anders, Margot and Rosalind // Maria
Dahvana Headley, Astronaut // Nisi Shawl, More Than Nothing // Brooke Bolander, The Last of the Minotaur
Wives // Amal El-Mohtar, Anabasis // Catherynne M. Valente, The Ordinary Woman and the Unquiet Emperor
Poetry: Jo Walton, The Jump Rope Rhyme